Guild Events
We organise a range of workshops, talks and open days from September through to June, generally on the second Saturday of the month, and generally at the Highland Hotel in Strathpeffer. There are occasional exceptions though, so check the details for individual events. Non members are very welcome, but workshops in particular are more expensive: usually £25 member, £35 non member. There may be additional costs for materials for some workshops. Open days are £5 for members, £10 for non members.
In addition we have established interest groups for each of our core crafts. These meet by zoom:
Dyeing – quarterly (December, March, June, September) on the first Saturday of the month.
Spinning – monthly on the third Saturday.
Weaving – monthly on the last Saturday.
Planned events
Click on the link for more information
Other Events
Guild members regularly demonstrate at local farm shows, and textile related events in our area. Click to read about summer shows 2022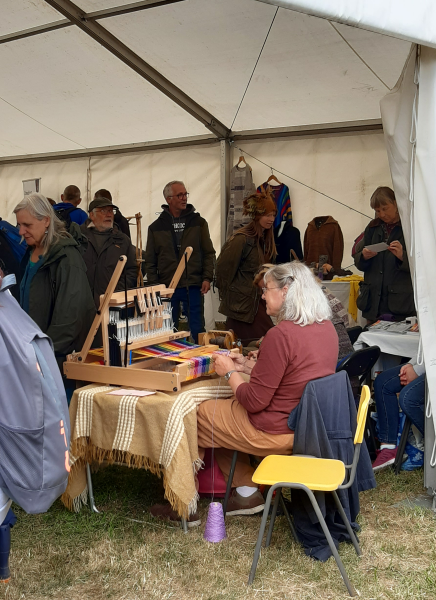 Spinning Groups
Many of our members belong to local spinning groups.  Contact details are given below.  Please note that the @ in email addresses has been replaced by (at) to prevent robots picking them up.
Ben Wyvis Weaving and Spinning Group
The Ben Wyvis Spinning Group meets in the Guild's Zoom room on the third Tuesday of the month between 7.30 and 9.30 pm. The group is centred on Dingwall and coversthe Black Isle and Beauly Firth areas. We have around 25 members, and attendance on a given evening has been from 12 to 20 spinners. This is a "spin and chat" group, any subject is up for discussion and we also encourage our members to show any completed projects. If you live in our region and would like to join us, send an e-mail to: benwyvisspincirc(at)gmail.com – I will make sure you receive the Zoom invitation.
Stratherrick Spinning Group
The Group meets at The Wildside Centre, Whitebridge, Stratherrick every other Tuesday evening from 6.30 pm to 10pm. All are welcome especially beginners. Refreshments. For more information please contact Lyn Woods by email: stratherrick.spin.chatter(at)gmail.com
Nairn Spinning Group
We meet at Croy Public Hall on the sceond and last Monday of the month 7.30-9.30. All welcome. If the weather is icy we meet by zoom. Contact Stephanie Hoyle: sehoyle(at)btnternet.com; 01463 793948
Caithness and Far North Spinning Group
We meet on the first Sunday of the month at Dunnet Community Hall between 1.30 and 3.30. The contact for our group is Ann Johnson email: annjohnson(at)zetnet.co.uk
Sutherland and Easter Ross Spinning Group
Anyone interested in joining us please contact me at j.c.mackay (at)btinternet.com, Janet Mackay T: 01549 421316
Alves Sunday Spinners Contact: jane_divers(at)Hotmail.co.uk