Playing with Colour – places still available
09/03/2019 - 10:00 AM - 03:30 PM
Dye workshop using Procion MX dyes to produce shaded and multi coloured skeins and tops. The aim is to try out a range of techniques and to explore different colour combinations. You will also be able to mix colours to make your own colour scheme and try it on single colour skeins. The dyes are suitable for both animal and plant fibres. Cotton tends to take the colour less strongly, and in my sampling I've found the greens disappointing on cotton. Numbers limited to 12, so if you are interested, please book.
The pictures below show the dyes on white and grey wool, and cotton (second picture).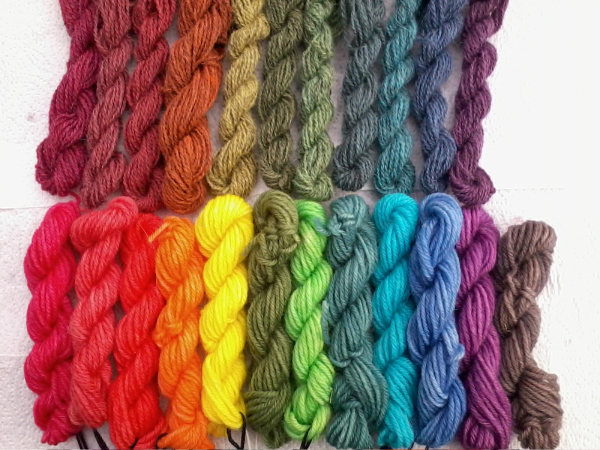 Information for those who are planning to attend:
Things to bring:
Apron to protect your clothes
Gloves – washing up gloves are relatively easy to take on and off, and give some protection from heat, but clumsy; the thin disposable gloves are less clumsy but more fragile and get sweaty – you'd probably need more than one pair to last the day.
Bucket for soaking – I can bring 4 buckets, but I thought it would be easier if everyone had their own – then you can just fish things out when you are ready and not have to sort through for your own stuff. I have all the fixatives. Yarn and fibre needs to soak for about 45 minutes before dyeing, but this can happen while we have a cup of tea and I give you an overview of the day.
If you want to pre-soak your yarns and fibres and get at the dyes quicker the recipe is:
Animal (protein fibres) – 25gms salt and 100mls white vinegar or 25gms citric acid dissolved in 3 litres warm water to 100gms fibre
Plant (cellulose fibres) – 25gms salt and 25 gms sodium carbonate dissolved in 3 litres warm water to 100gms fibre
Plant ties (I've got plenty, so don't worry if you haven't) and a pencil for writing on them – to identify your skeins etc
Stiff paintbrush – half inch decorating brush or stippling brush – for applying thickened dye if you want to try this technique
Plastic bags – to take wet stuff home – or you can just use your bucket
Notebook – I'll do notes, but you might want to make a note of your dye recipes
Inspiration picture if you want to try colour matching
Things to dye:
The Procion MX dyes we are using are supposed to be suitable for both protein and cellulose fibres, using different fixatives as above. You will need to know the dry weight of your yarn / fibre for soaking, and of individual skeins for measuring out dyes. Make sure everything has been washed to remove grease, filler etc. Bring plenty – up to 500gms.
Wool and other protein fibres
The aim of the day is to experiment with the dyes, and with different methods of producing vary-coloured yarn, tops etc, not to dye enough for a solid coloured jumper – we wouldn't have the facilities to "cook" it and it would use too much of one dye colour to be fair to everyone else. We will be microwave dyeing in smallish containers (for immersion dyeing) or cling film (for multi colour). A 15gm skein will be the maximum for immersion dyeing, otherwise up to about 30gms. Bring one or two ball-winder balls if you want to try injection dyeing.
Cotton and other cellulose fibres
I've been disappointed by the emerald and bottle green dyes on cotton, but the otheres are OK, so by all means bring some to try – cotton fabric should dye as well as fibre and yarn. These fibres do not need to be "cooked" to set the dye – you just leave them for 6 hours or overnight, so if you plan to try them you will need a container or containers for them to sit in to take home.
-