Amanda Hannaford ran this workshop, which focussed on fleece – the different properties of fleece from a variety of breeds, how to process and spin them to get the best from them, and what the resulting yarn can be used for.
She started by showing us samples of short, medium and long stapled fleece processed in different ways. First a short lambswool, showing an even, bouncy yarn spun longdraw from hand carded rolags; then three Jacob's skeins spun: without preparation, longdraw from rolags, combed and worsted spun; Zwarbles fleece she said varies from long and curled (ideally worsted spun) to short and crimpy (ideally woollen spun); Wensleydale she had flick carded and spun with a short, worsted draft to produce a lustrous, smooth yarn. All of this demonstrated the importance of good preparation and an appropriate spinning technique.
She then went on to talk about some of the fleeces she likes to use and which are available to her locally, and showed us samples:
Southdown and Dorset Down: short downs fleece with a crisp handle, ideal for carding and woollen spinning. The fleece had been put through a swing picker before carding. Both had produced sock yarn and Aran weight yarn. A very fine Southdown had produced lace weight yarn.

Cotswold and Wensleydale: lustre longwool. Amanda had produced enough 5 ply gansey wool for an adult gansey from Cotswold fleece, which would knit up at 7-9 stitches per inch. She told us she always counts the wraps per inch of her singles – the singles for the gansey yarn were 60 wpi. The Cotswold also produced an excellent curled loop boucle. The Wensleydale had been dyed and most had been combed and worsted spun: a few skeins had been tail-spun. This had been knitted into a shawl, with the tail spun yarn as an accent.

Romney: medium fleece with slight lustre; quite long, so best combed

Portland: rare breed; fine creamy fleece with slight lustre; can be combed or carded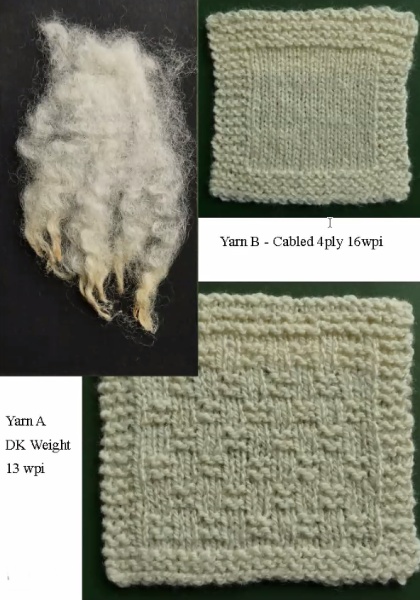 Exmoorino: Exmoor Horn crossed with Merino; very fine; comb

North Ronaldsay is a breed more local to us. It is double coated, with a very fine undercoat, which will spin up to a thickish laceweight, and a longer hairy outer coat.

Soay, a primitive breed, sheds its coat naturally. The fleece needs to be gathered in bits and varies in quality from fine to coarse and in colour from blond to chocolate.

Dealing with raw fleece: unroll and spread out on a sheet out of doors; skirt: remove lower part of each leg, edges of belly and dirty fleece from the britch area; soak overnight just in cold water, then leave to drain; then put into hot water (more than hand hot, but not boiling) with a good squirt of cheap washing up liquid; leave for about 20 minutes, then rinse in gradually cooler water till the rinsing water is clean, and leave to dry. N.B. You can wash fleece a section at a time, you don't need to do the whole fleece at once.
Amanda finished by demonstrating combing and the use of a diz to draw off the combed fibre into a sliver, and showed her hand carding video: Hand carding wool – YouTube. This is one of a number of handspinning related videos. Amada's YouTube channel is ADHUK.

Pictures from the afternoon craft and chat session are below.