I've been wanting to try my hand at natural dyeing for some time and last summer I finally put aside 2 weeks of sunshine to have some fun. Granted some of the dye pots were inside (like the madder) because I wanted finer temperature control than the open fire could give me, but most of the pots were done outside.
I'd ordered some of the dry stuffs from "Wildfibres" online to extend the possible range too.

I started, and kept up, a dye journal… quite an achievement for me in itself!
These are some of the colours I got using madder, indigo, onion skins, brazilwood, cherry bark, and logwood.  These were used with three mordants; Alum, Iron, and Bichrome of potash, plus an un-mordanted selection.
It particularly worked well using cochineal as an overdye on some of the fibres to extend the colour range.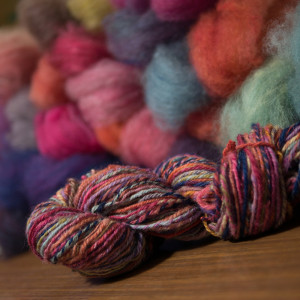 This is the finished piece that was created out of the wool I spun from the dyed fibre, keeping the stripping I wanted with a navajo 3 ply… the original fleece being a local cheviot hog.  I have to admit to not being a knitter here… my Mum was kind enough to produce the jumper for me.
A time consuming but very educational project.  This year I'm going to try some more things out of the garden instead of buying in ingredients (much to the amusement of some Ladies I know I bet, who witnessed rather dull results from my garden last year 😀 )
Helen Suzanne