Open to everyone in the guild, the spinning challenge is intended to be fun and to
encourage each other to be productive with our spinning. There will be one afternoon and
one evening spin-along session on zoom on different days each week during January and
we particularly hope that newer guild members will join in the fun. It is a great opportunity
to get to know other members informally, put some names and faces together, find out
who is interested in what in the world of spinning and discover who can answer questions
and help with techniques or difficulties you may be having. You can use the guild facebook
page to share pictures of your work if you are on facebook, but all communication will be
by e-mail so members who do not use facebook will not miss out on any information.
There are a number of different things in the challenges to do with friendship, fibre and
frivolity, and you are welcome to try as many or as few as you wish, and to spend whatever
time suits you on the activities. The challenge is not a competition, it's just a chance to
socialise, maybe try something new and get some good spinning done while the weather is
poor and the daylight hours are short. If you are interested in the spinning challenge
contact me (see December newsletter) and I will send you the details of the challenge, the
list of activities and I will add you to the e-mail list to receive the links for the zoom
meetings.
Sue has sent the first photo: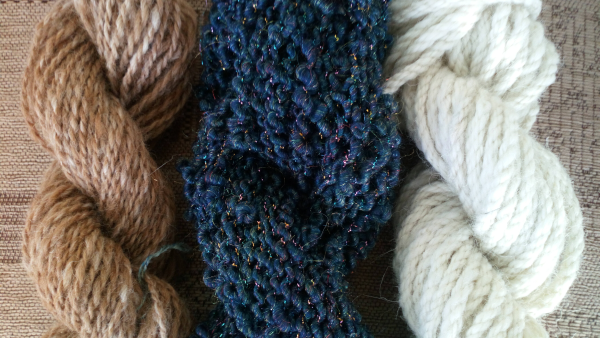 This is what she says about the skeins:
The fawn/brown skein is alpaca, it's a standard 2-ply but done on a handy Andean plying tool (borrowed) – a new piece of kit for me, which I liked a lot and it's now on my "must have one" list.
The white skein is from a blackface fleece, it's construction is similar to a cable but it was done by chain plying first S-wise, then more S-twist was added before I chain plyed it again Z-wise giving a 9-ply yarn in total. It's seriously chunky, spun at 16 yarns per inch with the final skein being just over 3 yarns per inch and it's for a hearth rug I want to
weave.
The blue skein is a commercial merino and stellina blend core spun and spiral plied with a multi-coloured lurex commercial yarn which I was lucky enough to find in a charity shop.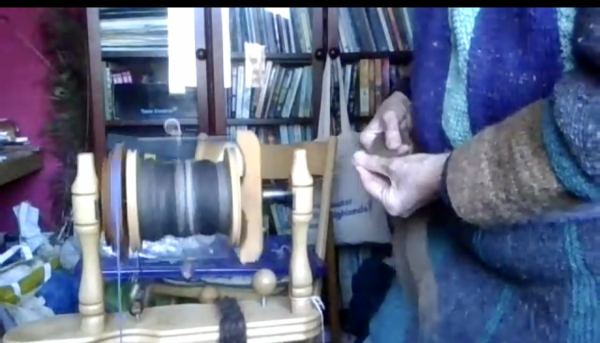 Sue spinning standing up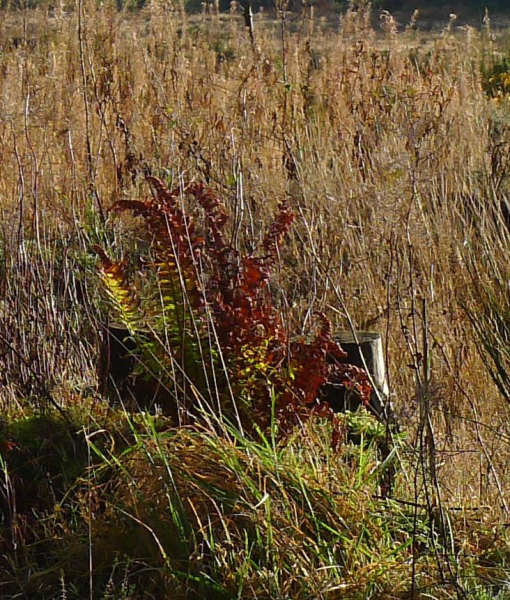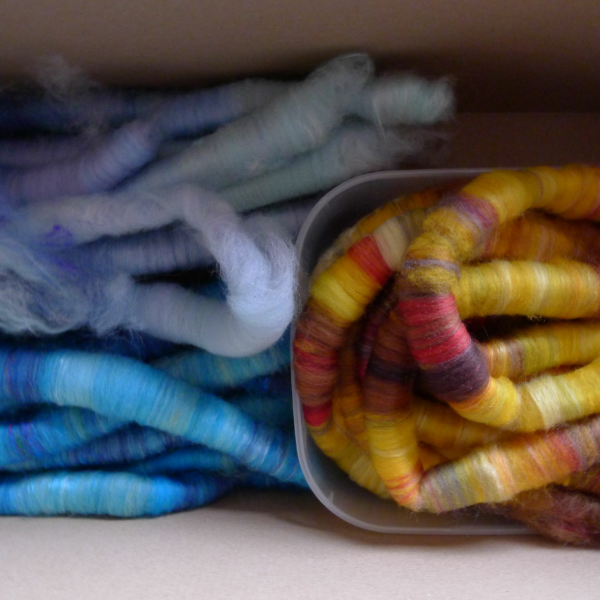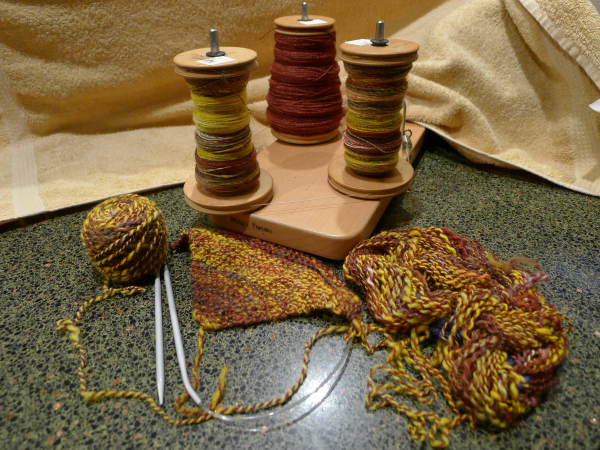 Mary's art yarn, inspired by late autumn colours.
Sue's art yarn. Her inspiration is a picture of a tiffany glass lamp. Here's what she says:
The yarn is a bubble crepe made by plying a multi-coloured core with two separate plies of black bamboo to give the stained glass effect. The core is a simple thick-and-thin single spun from a selection of three different sets of colours – blues, yellows and pale colours, each set blended in turn on my blending board, and spun sequentially.
It is a very easy yarn to make, and I think it is my new favourite of all the yarns I've spun yarn.